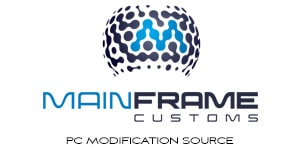 MAINFrame Customs is located in the tech driven state of California, and nestled in the central valley just miles away from some of the biggest technology corporations. We have been at the forefront in custom cable sleeving and PC modification supplies since 2013, and therefore have established a high reputation within the PC modification community. We stand behind our reputation by providing exceptional customer service, and support to our customers.
Our 6,000 square foot warehouse allows us to offer everything you would need to sleeve your cables including our premium Teleios cable sleeving, cable combs, wire, and much more! We are truly a one stop sleeving shop. Our constant growth allows us to provide a new range of products regularly, and we are now proud to offer a full selection of water cooling supplies!
We have partnered with some of the leading companies in the water cooling market including but not limited to: EK Water Blocks, Primochill, Mayhems Solutions and more!
This allows us to offer everything you need to water cool your computer. Our easy to navigate website makes it easy even for beginners to find what you need.
Shop now: http://mainframecustom.com/store/