The MAINFrame Customs M7 PWM pump is a high performance pump that comes standard with fully equipped options usually only found with the purchase of after market accessories.
We built this pump with aesthetics and performance in mind. The M7 pump is driven by a brushless, electronically commutated spherical motor. Only the stainless steel spherical shaped rotor which houses a strong magnet and impeller move. The rotor is held in place by a ball shaft which is made of ultra hard, and wear resistant ceramic. Rated 50,000 hrs MTBF!
The ball shaft sits in the center of the bowl shaped bearing. Only the bowl shaped bearing and ceramic ball shaft are touching at low pump speeds. At high pump speeds they do not touch thus promoting longevity, and quiet operation.
The outer housing and base plate are made of strong, but light aluminum which we further customize with anodizing in vibrant colors. The base plate allows for easy mounting in either a vertical, or horizontal position. Two slots on both sides of the mounting plate allow for numerous mounting positions and allow for easy adjustments to the position of the pump.
The MAINFrame Customs M7 PWM pump features two inlet, as well as two outlet ports for a variety of options when making your tube runs. Ports are threaded with G1/4 threads allowing for a variety of compatible fittings.
The plexi top is made out of quality Acetal (POM) which is milled by a precise CNC machine.
To finish it off the wires are fully sleeved and include matching black connectors.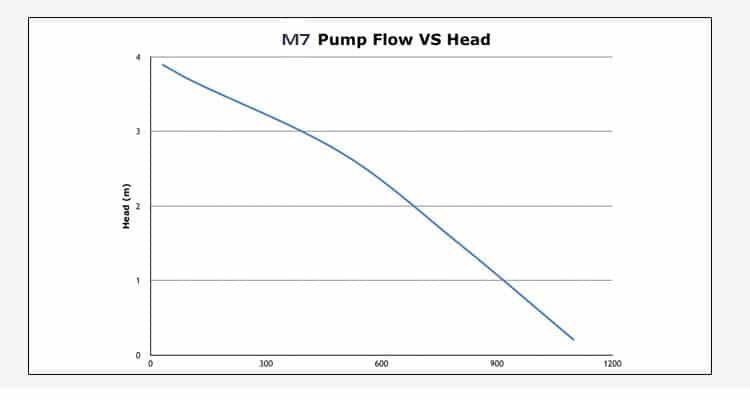 Technical Specifications:
Motor: Electronically commuted spherical motor
Rated Voltage: 12v DC
MTBF: 50,000 hours
Power Consumption: 18w
Max Pressure Head: 4.1m
Maximum Flow: 1100L/H
Rated Current: 1.5A
Gross Weight: 650g
Power Connector: 4pin Molex with 50cm cable length
Signal Cable: 4pin PWM Fan connector with 78cm length
*Do not run pump dry!